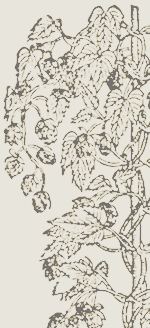 Overture: The Magic Flute
W. A. Mozart
(arr. Hagner)
First Edition
2 clarinets, 2 horns, 2 bassoons
Catalogue Number: HV004
Duration: approx. 6 minutes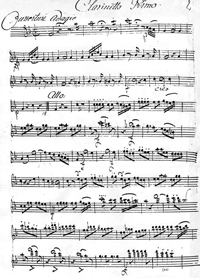 Original manuscript
By the middle of the 18th Century there was, amongst Bohemian musicians, a great tradition of wind bands (Harmonie) and it was for this medium that composers of the time arranged many popular works. Operas were a very fashionable form of music in society and arrangements of the latest operas proved immensely successful. Mozart's opera "Die Zauberflte" inspired a number of settings for a variety of wind instruments, which ranged from the more standard (as this one) 2 clarinets, 2 bassoons and 2 horns, to larger ensembles such as flute, 2 oboes, clarinet, 2 bassoons, 3 horns and double bass. There were several outstanding arrangers of the time including Beer, Wendt, Sedlak, Druschetzky, Triebensee and Koffner. Even composers such as Mozart arranged their own works, probably on the basis that it was better (in those pre-copyright times) to do it yourself first rather than have someone else do it and collect the money. This edition was prepared from a set of parts, the existing manuscript (c. 1800) appearing in the catalogue at Regensburg as:
Rtt Druschetzky 1 bei frst Thun und Taxis—Zentralarchiv Hofbibliothek.
Each of the parts has the name of Druschetzky, which was probably added after the parts were made, although it is impossible to say this with any certainty. However the original description of the overture shows that this was possibly a spurious marking—
Grand Ouverture (Es-Dur) pour / Deux Clarinettes. /
Deux Cors. / et / Deux Baon. / Arang. / par Mr Hagner./
The signature on the parts suggests a connection with an arrangement of eighteen arias within the opera (without an overture) made by Druschetzky which is in the Festetics collection in Keszthely, Hungary. It is not not clear whether the overture arrangement was done by Hagner (of whom we have been unable to find any record) to complete this existing arrangement of arias by Druschetzky, or whether it was done first.
Copyright 2005 – 2022 Hop Vine Music